Last updated on October 27, 2023 2:03 am
Using a Panini Press: A Guide to Making Delicious Paninis at Home
A panini press is a versatile kitchen appliance that can be used to make a variety of delicious toasted sandwiches, including the popular panini. A panini is a grilled sandwich that originated in Italy and is traditionally made with Italian bread, cheese, and cured meat. However, the possibilities for fillings are endless, making it a favourite of foodies everywhere.
If you're looking to upgrade your sandwich-making game, a panini press is a must-have. Here's how to make a delicious panini using a panini press.
Ingredients and Equipment
To make a panini, you will need the following ingredients:
Two slices of bread (preferably Italian or sourdough bread)
Cheese (mozzarella, cheddar, provolone, or any cheese of your choice)
Meat (ham, turkey, bacon, or any meat of your choice)
Vegetables (spinach, tomato, onion, bell pepper, or any veggies of your choice)
Butter or olive oil
You will also need a panini press. These can be found in most kitchen appliance stores or online.
Instructions
Preheat the panini press: Turn on the panini press and let it preheat for a few minutes. Most panini presses have a preheat light that will turn on when it's ready.
Prepare your ingredients: Slice your cheese, meat, and vegetables to your desired thickness. If you're using meat, it's best to cook it before putting it in the sandwich.
Assemble the sandwich: Take two slices of bread and spread butter or olive oil on one side of each slice. Place the cheese, meat, and vegetables on one slice of bread, making sure to distribute them evenly.
Grill the sandwich: Once the panini press is hot, place the sandwich on the press and close the lid. Press down gently on the lid to ensure the sandwich is evenly grilled. Cook for 3-5 minutes, or until the bread is golden brown and the cheese is melted.
Serve and enjoy: Remove the sandwich from the press and let it cool for a minute or two. Slice it in half and serve with your favourite dipping sauce or side dish.
5 Great Tips for Making Perfect Paninis:
Use the right bread: Italian or sourdough bread is ideal for making paninis. The bread should be thick enough to hold the filling and have a crispy crust.
Don't overstuff the sandwich: Overfilling the sandwich can make it difficult to cook evenly. Make sure to distribute the filling evenly and leave some space around the edges.
Use a combination of cheeses: Using a combination of cheeses, such as mozzarella and provolone, can add depth of flavor to your sandwich.
Experiment with fillings: The great thing about paninis is that you can use any filling you like. Try different combinations of meats, cheeses, and vegetables to find your perfect panini.
Clean the press after each use: To ensure your panini press lasts a long time, make sure to clean it after each use. Most presses come with a non-stick surface that can be wiped clean with a damp cloth.
In conclusion, a panini press is an excellent investment for anyone who loves a good grilled sandwich. With a little practice, you can make delicious paninis in the comfort of your own home. Experiment with different fillings and enjoy the endless possibilities of this versatile appliance.
More Images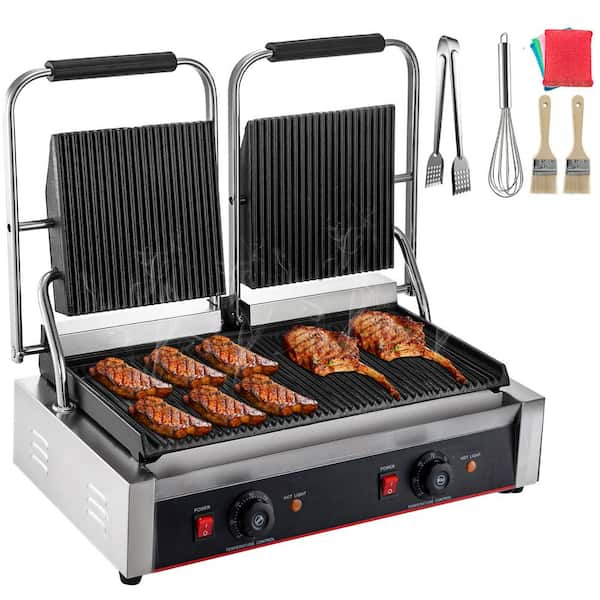 Salter EK2009 Marblestone Health Grill & Panini Press - Electric Non-Stick Griddle Plates, Versatile Folding Sandwich Toaster, Meat, Kebabs, Fish, 750 W, Floating Hinge, Automatic Temperature Control
2 new from £25.99
9 used from £22.61
Free shipping
as of October 27, 2023 2:03 am
Features
Featuring marble-effect grill plates, this Salter Marblestone Health Grill & Panini Press allows you to cook with little to no oil.
Versatile by design, use the electric grill as a panini maker or to cook lower fat meals for guests – great for tabletop dining.
This grill has a floating hinge that adjusts to ensure even cooking across various sizes of meat, fish, bread and vegetables.
This indoor grill includes an integrated oil channel to remove excess oils and fats, plus the non-stick surfaces are easier to clean.
Equipped with adjustable temperature controls, this compact grill makes it simple to cook various toasted sandwiches, meats and more
Toasted Sandwich Maker - Panini Press or Grilled Cheese Maker - Stove Top Toastie Non-Stick Ideal for Indoors and Outdoors by Jean Patrique
2 new from £25.11
2 used from £20.21
Free shipping
as of October 27, 2023 2:03 am
Features
TOASTIE AND TOASTED SANDWHICH MAKER - This stovetop toasted sandwich maker allows you to cook perfect toasties, toasted sandwiches and more directly on your stovetop without relying on electricity!
QUICK & EASY TOASTIES - There's no more waiting around for traditional electric sandwich toasters to heat up. Simply place on any gas, electric, ceramic or aga stove and get cooking instantly.
FLAWLESS HEAT DISTRIBUTION - Constructed to retain and distribute heat quickly and efficiently for even cooking.
PFOA-FREE NON-STICK COATING - The non-toxic, non-stick coating ensures this sandwich toaster is both durable and easy to clean.
INDOOR & OUTDOOR USE - Heat resistant handles make this sandwich toaster equally easy to use at home on your stovetop or out in the wild on an open fire!
Andrew James Panini Press & Health Grill with Large Non-Stick Plates | Removable Drip Tray & Floating Hinge for Deep Fill Toasted Sandwiches | Low Fat Grilling and Healthy Cooking
as of October 27, 2023 2:03 am
Features
PANINI PRESS TOASTER AND GRILL MACHINE -- The Andrew James Stainless Steel Panini Maker and Grill is ideal for making all sorts of delicious toastie, toasted paninis, grilled sandwiches, and can be used to grill other foods like burgers or chicken.
LARGE, NON-STICK PLATES -- Each grill plate has a cooking surface measuring 28cm x 23cm along with a non-stick coating to make cooking and cleaning easier. Both plates are ridged for that authentic chargrilled taste and look.
FLOATING HINGE FOR DEEP FILL SANDWICHES -- The Andrew James Panini Press has a floating hinge so the top plate sits flat on your food, no matter how thick it is, plus, it won't force the fillings up and out of one end.
ADJUSTABLE TEMPERATURE CONTROL --You can use the temperature control dial to create your perfect panini sandwich. We've also included a Cool Touch handle, non-slip feet and a convenient cord storage compartment.
2-YEAR MANUFACTURER'S WARRANTY -- Shop with confidence. Your Andrew James Panini Maker and Grill is covered by a 2 year manufacturer's warranty.
Quest 35609 Deluxe Health Grill With Panini Press & Sandwich Toaster/Non-Stick Marble Coating/Cool Touch Handle/Automatic Temperature Control/Floating Hinged Lid For Even Cooking & Toasting
6 new from £25.99
3 used from £23.61
Free shipping
as of October 27, 2023 2:03 am
Features
DELUXE HEALTH GRILL AND PANINI PRESS – This Deluxe Health Grill features non-stick, marble finished cooking plates and a hinged lid for healthy and versatile cooking. Reaching temperatures of 240℃, use this health grill for cooking thicker cuts of meat, fish, steaks, vegetables and filled sandwiches & paninis. There is no need to use oil for cooking as the plates alone will cook the food.
AUTOMATIC TEMPERATURE CONTROL – The automatic temperature control will allow you to achieve the perfect level of cooking, depending on your choice of food. The red-light indicator lets you know when your food is ready.
NON-STICK PLATES AND DRIP TRAY – The non-stick marble coated plates make the grill easy to keep clean. Its floating hinge system means that the top and bottom plates are heated so the lid can float above thicker food types to ensure your food is evenly cooked. The grill also has a handy drip tray to collect any excess oils and fat.
EASY TO USE AND STORE – A cool touch handle and non-slip feet will ensure your comfort and safety when the grill is in use. The grill also locks shut and has a cord wrap for compact storage.
QUEST APPLIANCES – With a wide range of home appliances like steam irons, hoovers & student essential cooking appliances, you're sure to find exactly what you need at the Quest Amazon store.
VonShef Panini Press Grill – Sandwich Toaster 2 Slice with Non-Stick Plates, 1000W, Deep Fill Toastie Maker with Floating Hinge, Auto Temperature Control, Easy Clean, Stainless Steel – Black
2 new from £24.99

as of October 27, 2023 2:03 am
Features
COOK UP A STORM: Level up your grilling game with the VonShef sandwich toaster, perfect for creating delicious grilled sandwiches, meat, and veg with adjustable temperature control.
HEALTHY GRILLING: Thanks to the ridged plates' non-stick coating and drip tray, with your 1000W panini press you can create tasty treats with a just small amount of oil, followed by a hassle-free cleaning process.
FLOATING HINGE SYSTEM: Opening to 180°, your deep fill toastie maker adjusts to the size of any sandwich, meat, or snack, so you can say goodbye to burnt leaking cheese and create the most adventurous toastie concoctions!
SPACE SAVING: Measuring H9 x W28 x D12cm, your compact 2 slice sandwich maker is perfect for storing away, as well as taking up little room on your kitchen worktop as you grill to perfection.
THE VONSHEF PROMISE: All our products are backed by a minimum 2 years warranty, so you can be safe in the knowledge that if anything happens we're here for you. Use our products with confidence.
Sage SSG600BSS the Perfect Press Sandwich Maker
2 new from £98.95
Free shipping
as of October 27, 2023 2:03 am
Features
The Sage Perfect Press Sandwich Maker contains an innovative hinge design to ensure there is just enough weight to deliver a toasted crisp outside without crushing the inside, resulting in a crisp, fluffy sandwich
ADJUSTABLE HEIGHT CONTROL: Adjustable height control keeps the top plate at just the right height to melt and brown any size open sandwich you can think of
CRUSH CONTROL HINGE: A long-lasting Crush Control hinge delivers enough pressure to toast perfectly without squashing what's inside; Combined with a floating design, the lid applies the perfect press
EASY CLEAN DESIGN: The cooking plates are designed with wide surface curves to ensure there are no hard to clean places and with PFOA-Free non-stick coating to ensure they will be easy to clean
COUNTERTOP CONSCIOUS: This compact unit delivers maximum taste while occupying minimum counter space
Davlex large panini press machine pannini maker commercial contact grill electric hotplate ribbed griddle effect toaster
out of stock
as of October 27, 2023 2:03 am
Features
2.2 kw 240 volts 13 amp plug attached
Temp range 50 degrees C to 300 degrees C
Full commercial cast iron and stainless steel construction
Removable drip tray, free wire cleaning brush
Ribbed top flat bottom, counter balanced top plate
Venga! 2-in-1 Panini Grill and Table Grill, 180° Opening, 2200 W, Stainless Steel/Black, VG COG 3003 BS
as of October 27, 2023 2:03 am
Features
2-IN-1 PANINI GRILL AND TABLE GRILL with two large grill plates, each one having a surface of 29 x 23 cm; You can use the panini grill to nicely grill a panini, a croque monsieur, a taco or a wrap on both sides, but you can also flip it open to be a table grill on which you can cook fish, meat and vegetables; Invite your friends and family and enjoy a nice grill dinner together
FLOATING HINGE SYSTEM AND 180° OPENING: the floating hinge system automatically adjusts itself to suit the thickness of the food that is being grilled; The 180° opening allows you to fully open the grill to get two horizontal grill plates which you can use as a table grill, effectively doubling your grilling surface; Adopt the perfect grilling system for every occasion
POWERFUL HEATING: with a power of 2200 W, the grill plates can quickly heat up to 220°C; The adjustable thermostat lets you control the grilling heat to suit the type of food you are preparing; Ideal for searing a juicy piece of meat or gently cooking fresh vegetables
EASY TO USE: the cooking temperature can be adjusted with the ease of turning a rotary knob and the removable and dishwasher-safe grease tray helps to facilitate cleaning; Additionally, the power light indicator shows when the grill is active and the ready light indicator shows when the set grilling heat has been reached to let you know when to start grilling your food
CONTAINS: 1 2-in-1 panini grill and table grill, 1 instruction manual in 7 languages (EN, DE, FR, ES, IT, NL, PL). Colour: stainless steel/black, VG COG 3003
Russell Hobbs 17888-56 Cook at Home 3in1
2 new from £75.41
1 used from £69.72

as of October 27, 2023 2:03 am
Features
Panini press, Health Grill & Griddle
4 slice panini press, 5 chicken breast grill
1800 W
Double Plate
Opens 180 degrees into griddle position for cooking bacon, eggs & veg
Coolwe 2200/3600W Non-Stick Sandwich Panini Press Grill, Electric Sandwich Maker with Adjustable Temperature, Single/Double Plates, CE/FCC/CCC/PSE, Silver
as of October 27, 2023 2:03 am
Features
✦ High-Efficiency Heating: 2200W (Single Pan) /3600W (Double Pan) High-Power output, using Bold U-Shaped Heating Tube & Uniform Heating Technology, allows you to Quickly Make delicious dishes. It can be opened 180° into the grill position, used for cooking bacon and vegetables.
✦ High-Quality Material: Made of Premium Stainless Steel, Non-Stick & IP21 Waterproof, it has a detachable oil receiving box, which is convenient for loading oil residue and easier to clean. Equipped with a fixed-point movable bracket, it can be used to fix the pressure plate.
✦ Ensure Your Safety: Our arc welding machine has multiple vents on both sides of the fuselage, which can Dissipate Faster and Effectively Extend the use time of the griddle. It has a Leakage Protection Design to prevent electric shock caused by leakage.
✦ Multi-Usage: Equipped with Cost-effective heating element, keep lower consumption with high efficiency perfect for cooking vegetables, meat, grilled cheese, scrambled eggs, Panini sandwiches, hamburgers, chicken, vegetables, etc.
✦ Perfect After-Sales Service: Certified Brand, CE/FCC/CCC/PSE Certified, 3-year quality assurance, and 5-year customer service. For more details, please see the product description and manual, or email us to get it.
Aigostar Sandwich Toaster, Deep Fill Toastie Maker, 2 Slice Panini Press, Electric Health Grill, Non-Stick Plates, Easy to Clean, 750W - Warme
1 used from £23.27
Free shipping
as of October 27, 2023 2:03 am
Features
【Multifunctional Snack Maker】This toastie machine is one of the most versatile kitchen appliances - quickly make deliciously toasted sandwiches or panini in the morning, conveniently pan-fry veggies and meat after coming back from work in evening, and BBQ in parties etc. Ideal for panini, ciabatta, tea cakes, crumpets and for warming pittas, flour tortillas and naan bread
【Easy to Use】This sandwich toaster grill features a hinged lid which makes it ideal for toasting different sandwich thicknesses. Built-in 'power' light so you can remove the guess work and make full use of this product. It also features a cool touch handle to ensure safe and easy use whilst this appliance is switched on
【Non-Stick Coating Plates】Non-stick coating plates for easy cleaning, you'll save lots of time on cleaning your griddle and table. Wipe the plate surface with soft damp cloth after use
【Modern Design】This panini grill comes in a sleek and stylish black and red colour scheme to ensure that it looks good in your home. The ridged surface naturally removes fats meaning you can cook healthier
【Shop with Confidence】Stands upright for compact storage and features cool-touch handle and non-slip feet. PRODUCT SIZE: L279*W218*H86mm - 2 YEAR MANUFACTURER'S WARRANTY
NETTA Panini Maker & Health Grill - Sandwich Toaster, Panini Press - 2 Slice Non-Stick Grill Plates – Built-In Fat Tray - 1500W - Stainless Steel – Easy to Clean
3 new from £36.99
3 used from £29.99
Free shipping
as of October 27, 2023 2:03 am
Features
VERSITILE: This NETTA 1500W 2 Slice Panini Maker is not only a great way to toast paninis, you can also warm and toast ciabatta, tea cakes, crumpets, pitta bread, tortillas or naan bread. This is the ideal machine for your toasted sandwich needs making it a must-have accessory for your kitchen.
MODERN DESIGN: This panini maker comes in a sleek and stylish black and silver colour scheme to ensure that it looks good in your home. The ridged surface naturally removes fats meaning you can cook healthier. This product comes with a built-in fat drip tray.
EASY TO USE: This product features a hinged lid which makes it ideal for toasting different sandwich thicknesses. The non-stick plates mean that cleaning this machine requires little to no effort. It also features a cool touch handle to ensure safe and easy use whilst this appliance is switched on.
INDICATOR LIGHT: This panini maker has built-in 'power' and 'ready' lights so you can remove the guess work and make full use of this product. An adjustable temperature gauge is also built into this product.
PRODUCT SIZE: 30.5 x 25.5 x 11cm | PLATE SIZE: 26.5 x 18cm | WEIGHT: 2.6KG
Videos About This Product