More Images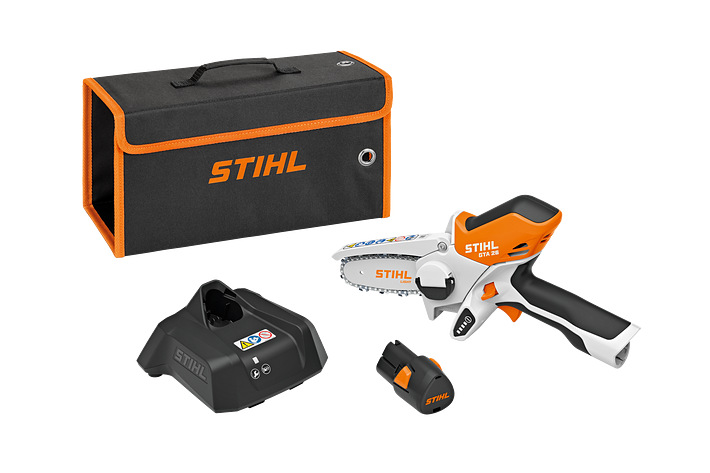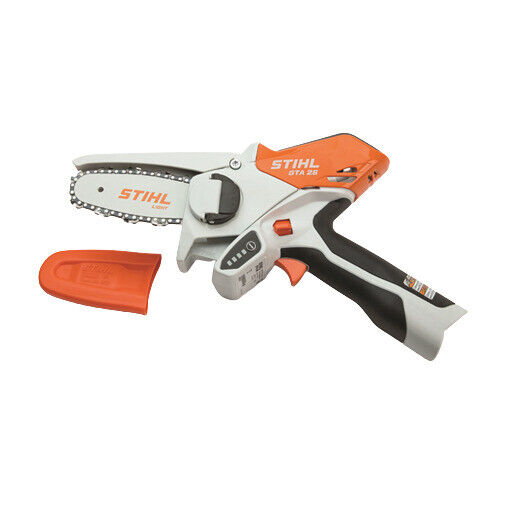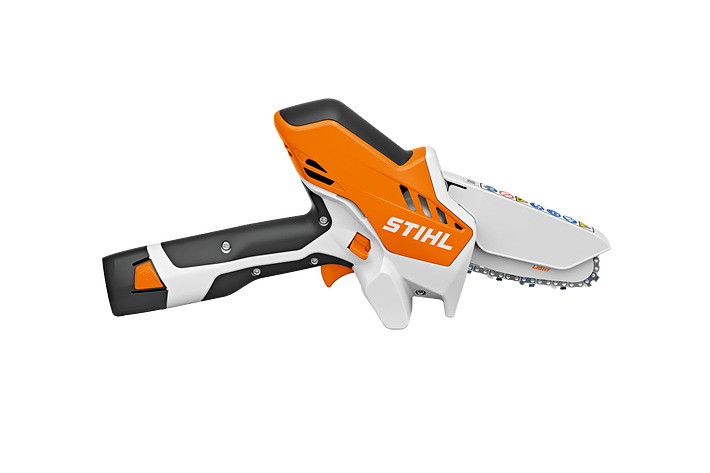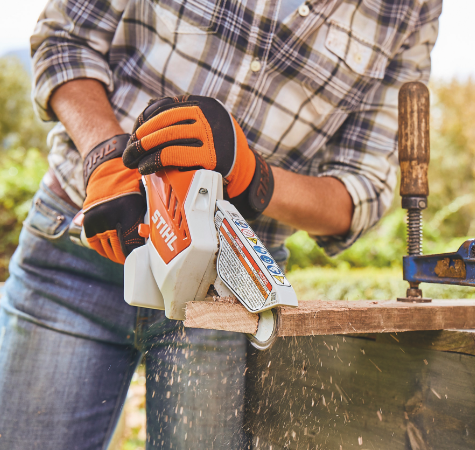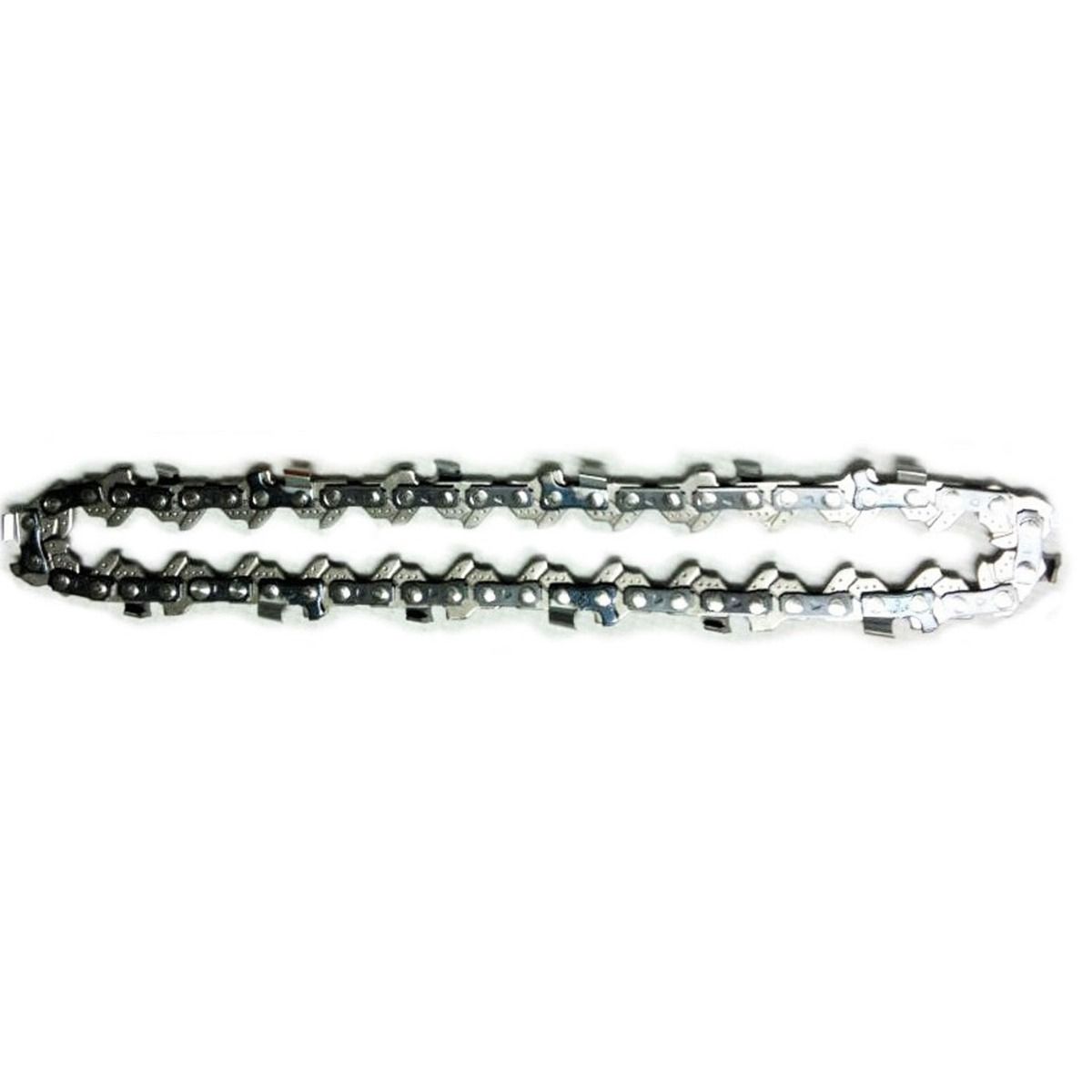 The Stihl GTA 26 Cordless Battery Pruner or other wise known as "the Stihl mini chainsaw", is a multi-purpose cordless woodcutter. Perfect for chopping up green cuttings, pruning trees and shrubs, and even building with wood. Featuring a 1/4" saw chain for strong cuts and high cutting performance. Because to the non-slip operating handle, it is also comfy. A flexible protective hood and no tools are required for the tool-free chain replacement. With the helpful charge indicator, you can see when it's time to recharge.
Compact & Powerful – The GTA 26 can cut through branches, bushes & firewood with ease!
The Stihl GTA26 is a versatile cordless little chainsaw that works well for cutting up garden debris, pruning trees and shrubs, and woodworking. with a 1/4′′ PM3 saw chain for powerful cuts and outstanding cutting performance. rubberised handles that are comfortable provide smooth, precise control. Chain replacement is possible without the use of tools, and the protective hood may be moved above the bar.
Included in the set:
1 x AS 2 battery, 28 Wh, 10.8 V
1 x AL 1 standard charger
1 x 10 cm Light guide bar
1 x 10 cm 1/4″ PM3 saw chain
1 x Multi oil Bio, 50 ml
1 x black/orange carry bag with eyelets for wall-mounting
The gta 26 comes boxed with a battery included. You can opt for an additional battery which is called the AS 2 battery. This is a much more powerful offering and will increase your run time as the stand alone battery lasts just 17 minutes on full power.
An space saving efficient mini chainsaw
The GTA 26 has a robust STIHL Picco Micro 3 saw chain and high chain speed of 8 m/s guarantee quick results and a clean cutting pattern.
Easily view your battery life with an LED charge level indicator
Thanks to the easily readable LED charge level indicator, the user can check at the push of a button how much battery capacity is left at any time.
The GTA 26 comes with a Lithium-ion battery
The powerful, lightweight 10.8 V AS 2 battery ensures long life and maximum performance.
Easy to change the chain with a tool-free chain replacement system
Thanks to the sprocket cover with wing nut, replacing the chain is very straightforward. No tools are required. Manual chain tensioning is not necessary.
Included within the boxing is a specifically designed carry case
The set includes a wall-mountable carry bag for easy transportation and safe storage. The battery and charger are only included in the set.
| TECHNICAL DATA | VALUE |
| --- | --- |
| Bar length cm | 10 |
| Rated voltage V | 11 |
| Weight kg 1) | 1.2 |
| Weight Pounds 1) | 2.6 |
| Vibration level left m/s² 2) | 2.9 |
| Vibration level right m/s² 2) | 2.8 |
| Sound pressure level dB(A) 3) | 77 |
| Chain gauge | 1/4″ P |
1) Without battery, with bar and chain
2) Uncertainty (K) factor according to DIR 2006/42/EC = 2 m/s²
3) Uncertainty (K) factor according to DIR 2006/42/EC = 2.0 (dB(A)
The ETA 26 cordless garden pruner is ideal for pruning jobs around the garden it makes light work of pruning small trees and shrubs cutting up garden waste and even small DIY jobs such as building a raised garden bed.
Part of the still air system of tools the GTA 26 has a powerful 10.8 volt lithium ion battery which runs for up to 25 minutes that's enough time to make around 80 cuts in branches. It's quiet and lightweight at only 1.4 kilograms including the battery and the rubberised handles make it comfortable to use and easy to control.
Make sure you use two hands to control the tool at all times the GTA 26 comes with a quarter inch pico micro three saw chain which has been specially designed by Stihl to give low vibrations with a high cutting performance.
How to use the GTA 26
Once the chain is up to speed, move the tool towards the material you want to cut and make sure the material is close to the body of the tool. You don't need to force the tool through the cuts either, just apply light pressure to control the position.
You can easily see how much charge you have left, with the charge level indicator. The chain can be easily replaced without the need to use any tools. The battery and charger all come in a handy carry case for easy storage and transport along with the bottle of multi oil bio, so you can make sure the chain is lubricated and protected from corrosion at all times.
To use the GTA 26:
Simply turn off the trigger lock with your thumb and squeeze the trigger.
Always read the manual before using the GTA 26
Make sure you wear the correct personal protective equipment with this tool (you should be wearing snug fitting clothes goggles gloves and sturdy)
STIHL Smart Connector
STIHL connected is a smart fleet management system that enables professional users to digitally manage machine fleets and work assignments.
This is managed by the STIHL Smart Connector – a sensor with a diameter of just under 5cm, which is mounted on the tool. It can be mounted on petrol, electric or battery-powered tools where it records and saves the operating hours while the motor is running and transmits this information via Bluetooth® 4.2 to the STIHL connected App (the smart connector can be mounted on non-STIHL tools too). The Smart Connector offers entirely new functions and services, as a basis for device management both in your home garden using the STIHL connected App, and for managing your machine fleet using the STIHL connected Portal.
Here's a few reasons why STIHL connected can help manage your fleet of tools:
The Digital Fleet Management keeps a record of all tools and their service record
You get prompts when a tool needs servicing, so you never forget to change the plug, filter or just carry out maintenance
You can see how many hours a tool has done, so you can plan which tools to use, replace or buy more of
At the end of the day, you can open the app and see which tools are next to you – so you can tell if something is missing
Book a service with your nearest STIHL Approved Dealer and give them access to see what work will be needed in advance.
STIHL Connected is an intuitive way to manage your machine fleet and workload intelligently and efficiently. Visit: STIHL connected FAQs to find out more.
Download the app for free or visit the STIHL connected Portal by clicking on the following links:
AK 10 Battery
Compact Lithium-Ion battery for the AK System with a voltage of 36 V and a capacity of 72 Wh. Battery life depends on the device type. With charge level indicator (LED).
AL 101 Standard charger
230 V charger, recommended for STIHL AK System batteries (can also be used with AP System batteries). With operating mode indicator (LED) and passive battery cooling. Cable tie with Velcro strap.The charger can be wall mounted if required.
AK System charge times:
AK 10 battery in 95 minutes
AK 20 battery in 180 minutes
AK 30 battery in 205 minutes
AP System charge times:
AP 100 battery in 100 minutes
AP 200 battery in 200 minutes
AP 300 battery in 250 minutes
AP 300 S battery in 300 minutes
AP 500 S battery in 355 minutes
Carry bag for STIHL battery accessories
Soft bag for safe transport and storage of up to 2x AK or AP System batteries and 1x STIHL charger.