The Stihl HLA 56 is a lightweight and well-balanced cordless long reach hedge trimmer that's ideal for trimming taller hedges around your garden.
You can trim branches up to 16 millimeters in diameter with the HL 56 and with an impressive 100 minute runtime using the recommended a K 20 battery, this powerful hedge trimmer will make short work of tall hedges.
Trimming is easy as you can trim up to three hundred and eighty square meters of hedge in one charge.
The double-sided single edged cutting blades work smoothly and efficiently whilst the teardrop shaped blades pull the branches between the cutting teeth to keep your hedges and shrubs looking neat and tidy.
It should Ben noted that it is recommend to use a little resin spray to help remove SAP and keep the blades moving freely.
The adjustable head is easy to move to suit the hedge and can be adjusted up to 135 degrees, it also has a blade tip protector to protect the cutters when trimming close to walls or hard surfaces.
The Stihl HLa 56 is part of the compact cordless range with interchangeable 36 volt lithium ion batteries, the batteries fit all of the other tools in the range including lawnmowers, a grass trimmer, a blower, a standard hedge trimmer and chainsaws.
The total length of the hla 56 is 210 centimetres but it can be easily taken apart without the need for tools, it's easy to quickly utilise for neat storage in the shed and there's even a bracket included so you can mount it on the wall.
You can also get an additional 50 centimeter extension shaft for reaching taller hedges, there is a neutral locking position for the battery which means it can be safely transported.
To start the Hla 56, simply click the battery and flick this switch forward make sure your hand covers the trigger interlock and then pull up.
When using a hedge trimmer always read the manual before use and make sure you use the correct personal protective equipment, with this tool you should be wearing snug fitting clothes sturdy Footwear, goggles gloves and a helmet where there is a risk of branches falling from above.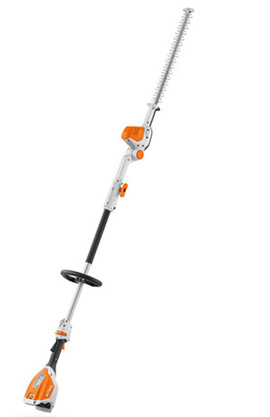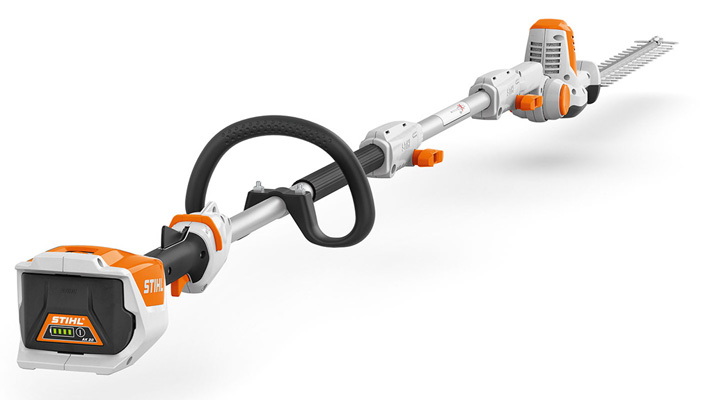 Whispering sound of a Stihl HLA 56 battery Cordless Long reach Hedge trimmer
In this video I could of spoken whilst the Stihl HLA 56 long reach hedge trimmer was switched on. I can not vouch much more about the cordless battery ...
STIHL HLA 56 Cordless Long Reach Hedge Trimmer | STIHL GB
The STIHL HLA 56 Long Reach Hedge Trimmer makes trimming those tall hedges easy with its adjustable head and a 100-minute runtime when used with the ...
STIHL HLA 56 Battery-Powered Extended-Reach Hedge Trimmer
The STIHL HLA 56 is the first extended-reach hedge trimmer within the AK Series. Powered by the 36-volt lithium-ion battery as other products within the AK ...
How to Assemble: HLA 56 battery-powered hedge trimmer
Discover the features of and how to assemble the HLA 56 battery-powered hedge trimmer, including adjusting the articulating cutting blade to each position in ...